Rick Draganowski's Rustpuppy Page

The Flat Cam Project:
Rustpuppy's flat cam is replaced with an Edelbrock Performer 400.

The Rustpuppy Logs:
The story of Rick and Rustpuppy on their relentless quest for speed along the Oregon coast.

Return of Rustpuppy (overview)
A short overview of the "Return of Rustpuppy" from the death knell of a rod knock.

Return of Rustpuppy Chapter 1:
400 motor rejected, Goody comes home, Horsepower predictions, Disassembly, Heads milled and ported, Reassembly starts.

Return of Rustpuppy Chapter 2:
Reassembly continues, Intake manifold modification, Distributor modification, Test stand setup.

Return of Rustpuppy Chapter 3:
Distributor installation, Exhaust setup, Distributor spacer, Goody runs!, Prepare for motor swap in Rustpuppy.

Return of Rustpuppy Chapter 4:
Continue disassembly of Rustpuppy for motor swap, Tear down test stand, Pull Knocker from Rustpuppy, Symbolic passing of motors, Start TH350 shift kit installation , Concern about slime in tranny.

Return of Rustpuppy Chapter 5:
B&M Shift Kit installed, TH350 painted, Modifications on Rustpuppy for Goody install, TH350 governor modification installed and removed, Preparations for Goody-TH350 docking.

Return of Rustpuppy Chapter 6:
Goody-TH350 together, Firewall hole covered with hatch, Hurst Pro-matic shifter installed, Details attended to for Goody install.

Return of Rustpuppy Chapter 7:
Goody installed!, Lots of details, Exhaust connection flangeup, Alternator modification.

Return of Rustpuppy Chapter 8:
Dash surgery (butchery) and instruments installed, "The Hole" covered, Bumper shock swap and bumper install, New tires for front of Rustpuppy, Hood installed, Rustpuppy runs!, Floor insulation, Sorting out problems with shifter,distributor, fuel filter, and terribly concerned about Goody smoking, Found smoke problem!, Rustpuppy running strong and a happy ending.

Return of Rustpuppy Chapter 9:
Flasher reminder, Manual choke flangeup, Disgusting wheelcover infestation, Install Lakewood Competition traction bars and new rear shocks, Shadetree front end alignment, First G- Tech Rustpuppy Run with Goody (shifting at 4500) 14.42@100.2, Second Rustpuppy Run session (shifting at 5700) 14.25@103.6, Rustpuppy's rear axle starts whining (bummer.)

Return of Rustpuppy Chapter 10:
Rustpuppy gets a new rear axle, 3.73 Richmond gears and GM posi 8.5" 10 bolt, Twin Rustpuppy tracks made..

Return of Rustpuppy Chapter 11:
Tear into interior, Armor for the long battery cable, Reinforce seat belt mounts,Lakewood Universal (Not!) driveshaft loop installed, Exhaust system mods, Structural aluminum rear firewall, Finish interior, End of The Return of Rustpuppy story...Beginning of Rustpuppy Test & Tune...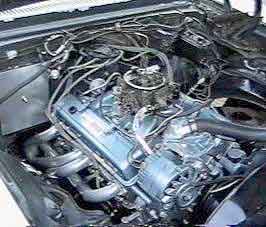 Goody is Home and Happy

<-- Zero to 80mph Shifting at 6000rpm.





Rustpuppy Test and Tune Adventures.. Thrills, Disasters, Boring How-To Instructions...

Rustpuppy Test and Tune Chapter 1:
Pro-Matic neutral safety switch, High voltage coil for the HEI, Rustpuppy solidly into 13's, Old truck TH350 fails, Replace rear spring bushings, Race built TH350 goes in, 13.73@106.5 with wheelspin at launch...

Rustpuppy Test and Tune Chapter 2:
Adjusted Caster for High Speed Stability, Verify Rear Axle Setup, Gaudy Axle Paint, Lugnut Wheel Wobble Fixed, Driveshaft Reconditioning, Install B&M Shift Improver Stage II, Timing Tuning to get 13.57@107.8 on G-Tech, Launch Analysis Pictures

Rustpuppy Test and Tune Chapter 3:
Driveshaft transplant, Pyrometer test, Another driveshaft, Best time 13.55@107.9 , Fan clutch replaced, Exhaust permanent fix, Disaster-serious oil leaks, Transmission cooler install, Fix oil leaks and Hole II, MSD ProBillet HEI, Slicks for Rustpuppy

Rustpuppy Test and Tune Chapter 4:
MSD Timing Curves, Slicks too tall, 400 motor returns, Lightening Rustpuppy, 13.42@108.1 on G-Tech with street tires, Rise on launch pictures, Medical roadtrip, Good heart arteries and bad behavior.

Rustpuppy Test and Tune Chapter 5:
Random Rustpuppy racing, Scraping brake noise, Fighting stuck drums, T-Boning a Mustang (almost), Bumpers back on, Desmogging Suburban, Trailer hitch for Rustpuppy, Racing with Puppytrailer hitched, Suburban burnout, 99 Quarter mile runs so far...

Rustpuppy Test and Tune Chapter 6:
Neck Surgery, Shop Reconstruction, Spider Infested Tach, Duct Tape Upholstery, Servo Pyrometer Installed, Piston Stop TDC Tool, Suburban Burnout, Cold Air Induction, Best Time 13.37@108.8 on G-Tech.

Rustpuppy Test and Tune Chapter 7:
Finished Cold Air Induction, Troubleshooting Mystery Problems with Goody, Rust Patches on Rustpuppy Rump, Random Racing, Mustache, Start Exhaust Cutout Project, Knocker Returns

Rustpuppy Test and Tune Chapter 8:
Finished Cutouts, Stops for Ramps, BFG Drag Radials, Victor Jr., Road Warrior Ambience, Rust Monster

Rustpuppy Test and Tune Chapter 9:
Bad Weather, Heart Problems, PCV Filter Kludge, Weight Reduction, 13.39@107.6 G-Tech, Air Cleaner Snorkel Strut, NHRA Spec, Install Right Cutout (spot weld only), PostMortem on Knocker (Cynthia), Gomer

Rustpuppy Test and Tune Chapter 10:
Cynthia's Oil Pump, Rick's Heart Attack, Secondary Delay Modification on Q-Jet, Sticky Drag Radials, Four Great Runs (13.33@109.6 Best), Stuck Brake Drum Fix, Drag Radials Eaten By Street, New Dash Cover, Left Cutout Tack Welded, Set Self On Fire, Street Tires Back On, Sounds of Rustpuppy With Cutouts Open

More to come...

Rick's study of connecting rod length:
A scientific study of the pros and cons of different length connecting rods.

BF Goodrich Radial T/A engineering data
A table with pertinent data about BFG Radial T/A tires (no longer available on the BFG website.)

The Chevy High Performance Goodwrench 350 article
The article that inspired "Goody", Rustpuppy's Goodwrench motor. Reproduced with permission.

Rick's magazine articles
Articles written for the Mexican start-up rodding magazine called AutoXtreme. This publication was the work of Luis Corbala and his partner in Hermosillo, Sonora, Mexico. Unfortunately, despite good response from readers there was not enough cash reserve to get them through the first year.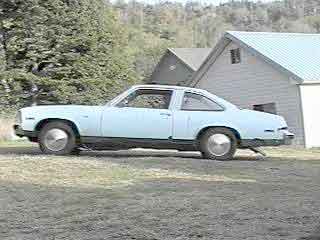 Here's Rick's 76 Nova 2dr Sedan, affectionately known as "Rustpuppy" back in February of 2001.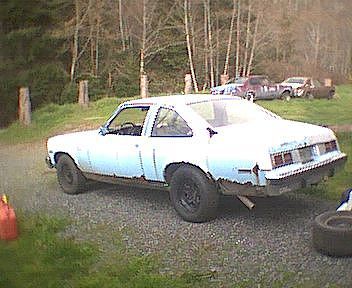 Here is Rustpuppy in February of 2003.

More Rustpuppy (and friends) pictures here.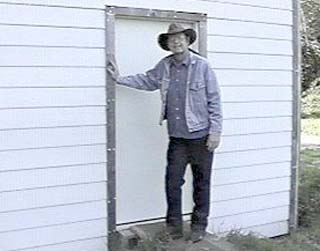 And a portrait of Rick hisself in his buckaroo garb (and after a significant weight loss.)



You can get in touch with Rick by sending e-mail to: dragan@harborside.com